Dr Christopher Bridgett, Psychiatrist, London, UK, & Dr Peter Norén, Dermatologist, Uppsala, Sweden
Much of the focus in the standard treatment of atopic eczema aims to deal with acute flare-up, or inflammation, and one of its main symptoms: itchiness. The related unremitting itch-scratch cycle is familiar to everyone involved. But when scratching because of itch is repeated often enough it can become a habit - then scratching happens without itch, and without awareness. This damaging complication of atopic eczema reduces the effectiveness of usual treatment.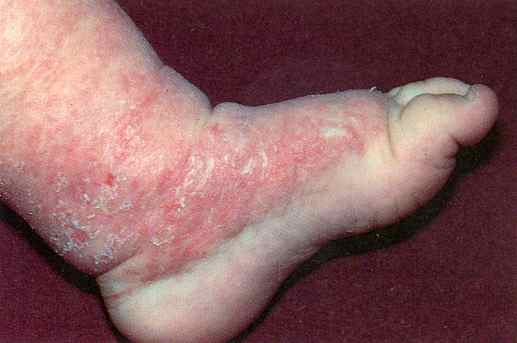 The red, dry, thick and flaky skin above is chronic atopic eczema, also called lichenification. It has been caused by habitual rubbing and scratching. Where the skin has been protected by a shoe, it is clear of eczema.
When chronic atopic eczema happens like this, saying "Stop Scratching" can only make things worse....and wearing gloves and keeping nails short... may not help.
It is important therefore that a recent Swedish study - see below - has demonstrated that what is effective for chronic atopic eczema is a treatment program that combines habit reversal, a behavior modification technique, with optimal topical treatment.
For success with habit reversal some preparation is needed. First, understanding the problem is important - then, making some time to solve it: perhaps 3 or 4 weeks. The program is simple and easy to learn. It is carried out at home, but help from others may be needed.
Before starting habit reversal, awareness of what is happening is necessary. Over a few days a younger child is observed to see especially when, where